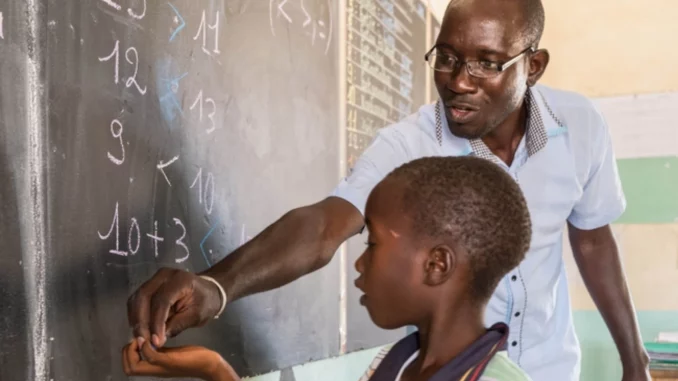 Abia State Teachers Recruitment 2023/2024: If you are a qualified teacher looking for a job in Abia State, the good news is that the government is currently recruiting teachers for the 2023/2024 academic session. In this article, we will discuss the requirements for the Abia State Teachers Recruitment and guide you through the application process.
Abia State Teachers Recruitment is a process aimed at hiring qualified teachers to fill vacant teaching positions in public schools across Abia State, Nigeria. The recruitment process is typically carried out by the Abia State Universal Basic Education Board (ASUBEB), which is responsible for the management and administration of basic education in the state.
The Abia State Teachers Recruitment process typically involves the publication of recruitment advertisements in various media outlets, inviting applications from interested and qualified candidates. Applicants are required to meet certain eligibility criteria, such as possessing the requisite academic qualifications, being of good character, and having a valid teaching license.
Once the application process is closed, ASUBEB typically conducts a screening exercise to shortlist qualified candidates based on their qualifications, work experience, and other relevant factors. Shortlisted candidates are then invited for further assessments, such as aptitude tests, interviews, and teaching demonstrations.
Candidates who successfully complete the assessment process are then offered employment as teachers in public schools across Abia State, with their placement determined based on the needs of the state.
Requirements for Abia State Teachers Recruitment 2023
To be eligible for the Abia State Teachers Recruitment 2023/2024, applicants must meet the following requirements:
Education Qualification: Applicants must possess a minimum of NCE, a Bachelor's Degree, or a Master's Degree in Education from a recognized institution.
Age Requirement: Applicants must be between the ages of 22 and 35 years.
Nationality: Applicants must be Nigerian citizens.
Character: Applicants must have good character and must not have been convicted of any criminal offense.
Physical Fitness: Applicants must be physically and mentally fit to carry out their duties as teachers.
Professional Certification: Possession of a TRCN certificate will be an added advantage.
How to Apply for Abia State Teachers Recruitment 2023
To apply for the Abia State Teachers Recruitment 2023/2024, follow the steps below:
Visit the Abia State Government recruitment portal at www.abiastate.gov.ng
Click on the recruitment link and select the "Teachers Recruitment" option.
Fill out the application form with your personal details, educational qualifications, and work experience.
Upload your passport photograph, CV, and other relevant documents.
Submit your application and print out the confirmation page.
Note: The application deadline will be announced on the recruitment portal. Only shortlisted candidates will be invited for an interview.
Tips on Abia State Teachers Recruitment
Sure, here are some tips on Abia State Teachers Recruitment that can help you prepare and increase your chances of success:
Read and understand the requirements: Before applying, make sure you read and understand the requirements for the recruitment. Ensure that you possess the necessary qualifications and meet the age and nationality requirements.
Prepare your application documents: Gather all the necessary documents, including your educational certificates, professional certifications, and other relevant documents. Make sure they are properly arranged and ready for upload during the application process.
Update your CV: Ensure that your CV is updated and tailored towards the teaching job you are applying for. Highlight your relevant experience and achievements.
Practice for the interview: If you are shortlisted for the interview, practice your responses to potential interview questions. Research the school district and prepare some questions to ask the interviewer.
Be punctual and professional: If you are invited for an interview, arrive on time and dress professionally. Make a good first impression by greeting the interviewer warmly and maintaining eye contact.
Network: Reach out to teachers in Abia State or those who have previously worked there. They may provide insights into the recruitment process and help you prepare better.
Stay positive: Stay positive throughout the recruitment process, and be patient. Even if you are not selected, you can use the experience to learn and improve your chances in future recruitment exercises.
By following these tips, you can increase your chances of success in the Abia State Teachers Recruitment process.
The Abia State Teachers Recruitment 2023/2024 is a great opportunity for qualified teachers to secure a job in the state. Applicants should ensure that they meet the requirements before applying, and follow the application guidelines carefully to avoid disqualification. Good luck!